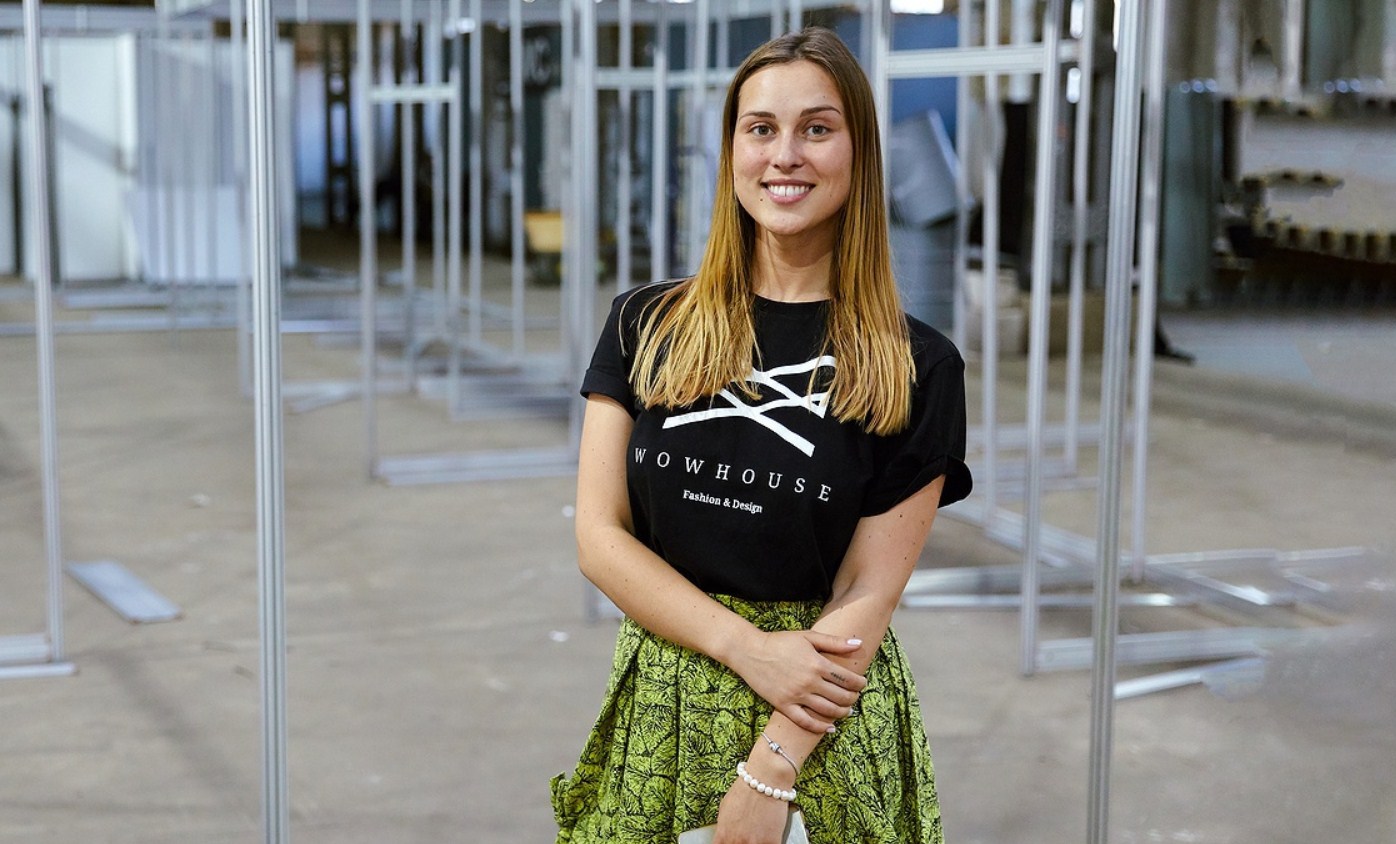 On May 25-26, 2019 the cultural space of OK16 hosted a unique event of the 1st fashion incubator in Belarus called WOWHOUSE took place. Unusual atmosphere, new collections of designers, the latest trends, lectures and secrets from specialists of fashion industry, as well as personal communication with designers from Belarus, Russia, Ukraine and Europe, etc made this event remarkable. We talked to the Belarusian designer and creator of the project Anna-Maria Eglit about the origin and development of her project.
Anna-Maria, first of all may I congratulate you with so successful start of the fashion incubator, which has become a Belarusian fashionable space with a special atmosphere and energy. Tell me, what led you to the idea of creating the first fashion incubator in Belarus?
Anna-Maria: Thank you. It wasn't easy, but the first step has already been made and we are moving on. In fact, being a Belarusian designer and having passed a large number of fashionable places both in Belarus and abroad, I slowly have come to understand that there are not so many decent sites that give opportunity for designers, to support sales and bring new customers. For example, for three years already I have been engaged in new format linen embroidery with a patriotic hashtag #белорусомбытьмодно. And I understand perfectly well myself, why it is important to develop and promote yourself in this profession. This is how the idea of our own fashion incubator was born. Now it will provide all what our Belarusian designers need. Today, fashion incubator @wowhouse_by is exactly the kind of platform that I have been drawing in my dreams. It unites designers, buyers, make-up artists, hairdressers and, of course, professional stylists who know how to work with their clients.
Who is the organizer of this event? Are there additional sponsorships?
Anna-Maria: I am both the originator of the ideas and the organizer of the incubator. All visual elements were invented exclusively by myself also. During the launch of the project the team changed very often. Unfortunately, there weren't always those people who could work with full dedication and put their soul into the project. But now there are people in the team who support and motivate me every day. I appreciate their efforts so much. The main sponsor of the project is the "Eurotkani". They are the ones who take an active part in financing our advertising, marketing materials for the target audience. Together we will grow and develop our project.
What, first of all, do you expect as an organizer of such a project?
Anna-Maria: First of all, I want to give designers opportunity to work in a professional place, where stylists, buyers, make-up artists, hairdressers will also be present. As a designer, I should work for the client and their amenities. WOWHOUSE has a children's area, food court, beauty-zone. As an organizer, I an tryinh to create a special creative space for comfortable work of designers.
Tell us more about the WOWHOUSE zone. How do you imagine the person who will like this atmosphere?
Anna-Maria: Anyone who comes to the WOWHOUSE should get an incredible feeling of lightness of the interior and a special atmosphere. By the way, there is a nice bonus for boys who don't like to go shopping with their girls. For example, they can sit quietly on the food-court, smoke hookah, try a delicious cocktail. And for small children there is a special children's zone. Everyone will find something of their own, I promise!
Within WOWHOUSE-zone guests have an opportunity to create their own unique image taking into account recommendations of professional designers and stylists of fashion industry. Could you tell us more about the brands that will be presented to create those looks? Will it be possible to buy something "here and now" if you like?
Anna-Maria: Yes, we have the main idea of the project "see now, buy now", roughly speaking, "just saw – bought now". There will be a lot of designers – they are the most famous ones, such as Apti Eziev, Olga Babanschikova (Candy Lady), Vitalina Gordievskaya, as well as up-and-coming ones, whose brand is just beginning to emerge, but has all chances to become popular. I have a designer's idea of who such designers are, understanding all the subtleties of this craft. Process of selection of participants is very strict. Our team carefully watches to ensure that we are visited by people who treat us with integrity in their name and brand.
Can you name the projects and ideas that you follow as an example for the development of the Belarusian fashion incubator?
Anna-Maria: In general, the project was invented in my head with the help of some friends and ideas were further processed by me. As a designer, I understand how much space I needed to sell clothes. I also need stylists to help my client in choosing clothes. For buyers there should be a podium to see the image and be able to appreciate it. Actually, a fashion incubator is a squeeze of all the best that I managed to absorb from my experience as a designer. And of course, the example of a high level of organization of the event for me is the exhibition PITTI UOMO. This is the level of my project that my team must strive for.
Did you encounter any difficult moments during the preparation of your project?
Anna-Maria: There were no difficulties, except for the change of people in our team. Some of them could promise a lot, their promises were given blocks with tasks, and in the end nothing was done, which slowed down the start of the project. There was a person in the team who took on a huge block of work as the main stylist of the event and some other organizational questions. And in the end, tow days before the event, I understood that none of the promised things had been done: the stylists hadn't received the necessary information, backstage, etc. And within these two days my team had to do the impossible to get the project to the proper level. Now there are people in the team who live on this project, and everyone gives a part of themselves to its development. That's why we decided that the most important requirement in our work is to make any case to the result, and given the scale of the project we can't relax. Difficulties have always been and will always be, but we are growing with them.
How do you plan to develop this project?
Anna-Maria: We have big plans. Withing four months we will have demo-versions with performances at different places. In the first part we worked to attract designers, trying to create the most comfortable conditions for their work. Now we will be focused on ensuring sales for our designers, striving to do that as many people as possible learn about them and come to them. We show that Belarusian designers are able to work in hard work mode and create cool things that will be in demand in the market. After all, if we are in demand for designers, it will be the coolest bonus for our team. And now we are actively preparing for the 2nd fashion incubator, which will take place on June 29-30. After receiving a lot of positive feedback and wide coverage on social platforms, we have to make the next event even cooler.
And finally, in your opinion, what do you lack in the Belarusian fashion industry? And do you plan to fill this gap with your project?
Anna-Maria: Lack of live communication with the leaders of the fashion industry. At this stage, we can't bring in world experts who could tell us about their way into this business. While we attract Russian stylists, designers, who also have an interesting way, they can give practical advice and show us what we should strive for. We need to unite, then we will achieve much more in the development of the Belarusian fashion industry. Now we are already creating a lively competition on our site, and this is the way to growth. Every designer invests something of his own, gets an opportunity to create, splash out all his soul, all the creative flow and find a response in the heart of the client. I hope that we will fill in all the gaps that now exist in the Belarusian fashion industry, and will undoubtedly make fashion recognizable on the world stage.