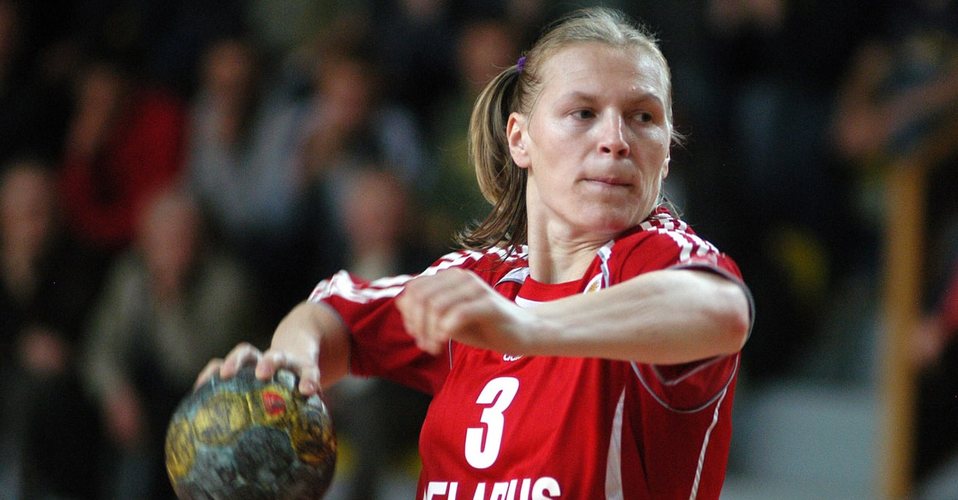 It's not even so much about the abundance of bright candidates. The point is that the turn of the century is an awkward starting point. Belarusian women's handball had its major successes at the turn of the 20th and 21st centuries: five of its six trips to the top tournaments fell compactly into eight "borderline" years. It is extremely difficult to differentiate between them.
But we have tried to differentiate achievements of players in the nineties and in the new century. This is why the list, alas, does not include Svetlana Minevskaya, two-time world champion and best Belarusian handball player of all time: she has not played for the national team in this century. That's why we won't tell you about Marina Bratenkova, Irina Kolpakova, Alla Matushkovits and other wonderful handball players who played in the nineties and would have chances to be listed otherwise… Thus, the top ten of Belarusian handball players of the last 22 years.
#10 Alesya Safonova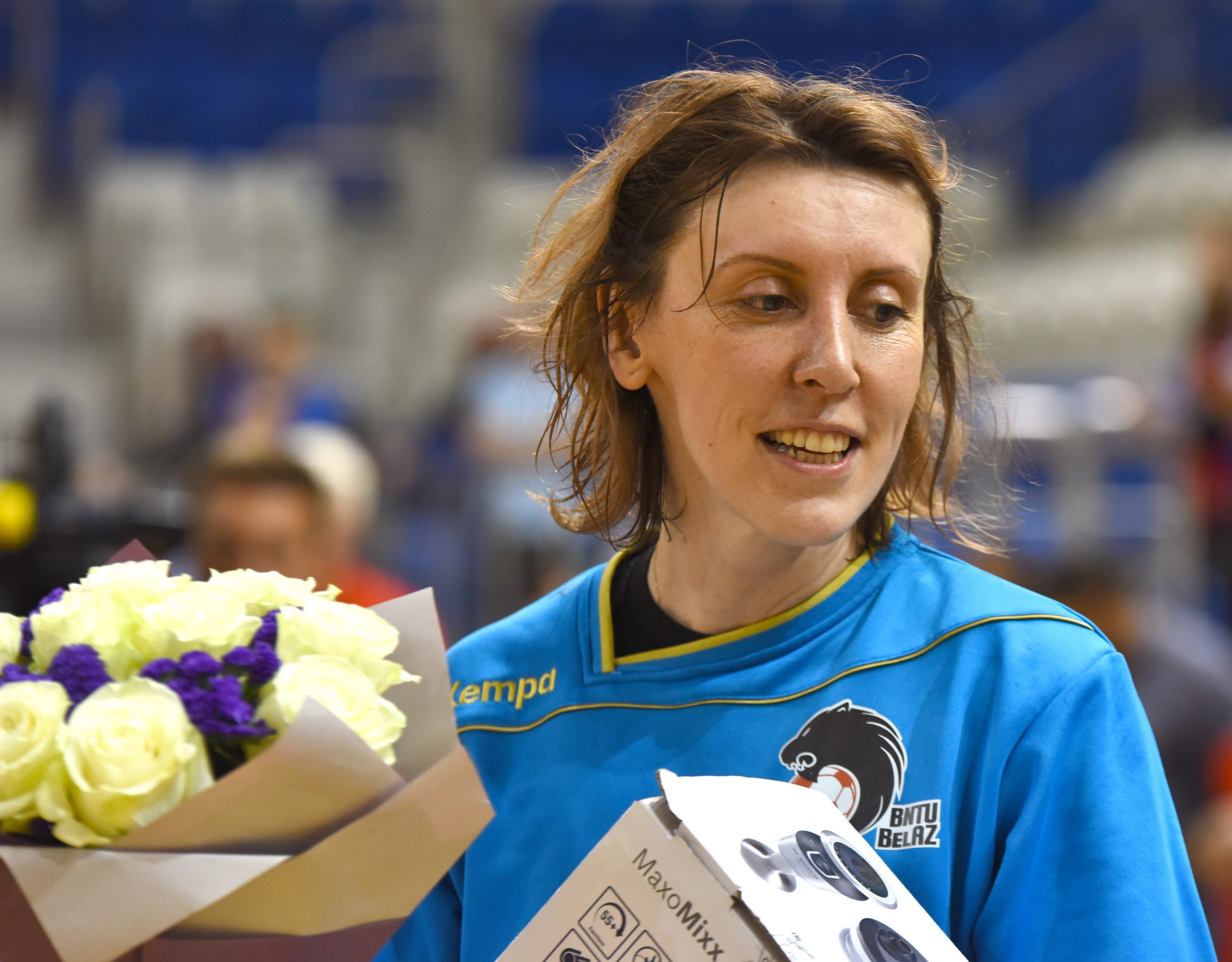 Belarusian women's handball didn't often have problems with goalkeepers – unlike, by the way, in men's handball. In our selection as well as in the top 10 in terms of the number of matches for the national team there are three goalkeepers. If Safonova takes the lead in the first rating, then in the second one she takes the sixth position. And she might well have been even higher. Alesya played her last match for the national team at the end of 2014 and quietly stepped aside – with the argument that "it's time to give the way to the young". Who knew that after that she would actively practice for another five and a half years, and very successfully, at BNTU-BelAZ… And in the recently ended season, 42-year-old goalkeepers' coach Safonova sometimes put promising goalkeeper Safonova in the "frame".
The most valuable and memorable of Alesya's 92 appearances for the national team came at the 2004 and 2008 European championships. Also, her career was enriched by appearances abroad – at Greek Ormy, Kometal from Macedonia and Dinamo from Russia.

#9 Tatjana Silic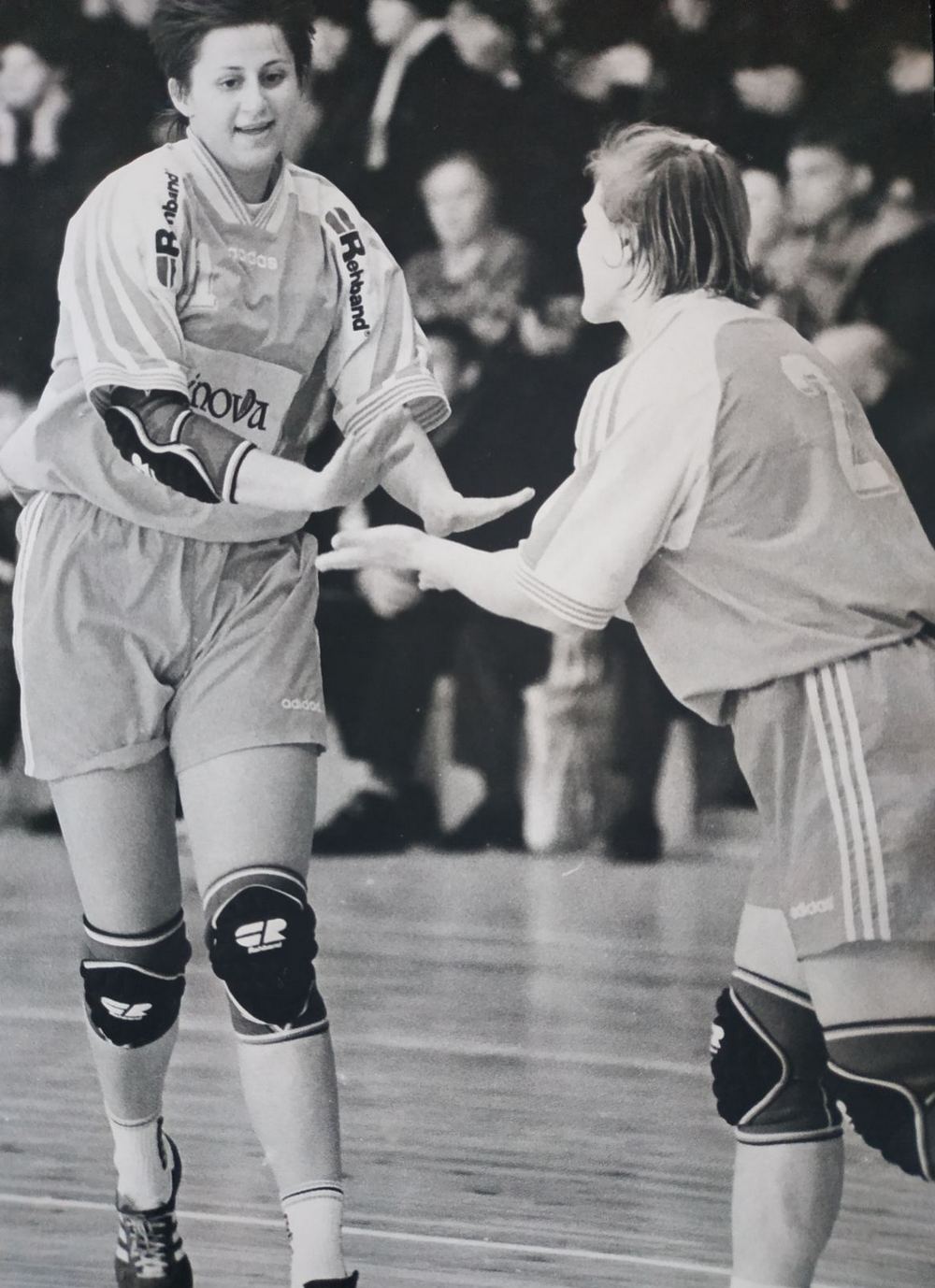 Just imagine if Artem Korolec suddenly decided to finish his career in the national team of Belarus after the European Championship in January… After all, something similar happened to our women's team 20 years ago. After the final match of the disappointing 2002 UEFA European Championship in which Belarus came last, 25-year old lineswoman Silich announced her farewell to the team right in the locker room. The main reasons were tiredness and poor health… Surprisingly, Tatiana finished shockingly early, but still remains in the team's statistical tops – ninth in goals (236) and 13th in the number of games (74).
Actually, of those 74 games in the XXI century there were only 7. Nevertheless, Silic has deservedly made our list. For the very European Championship in 2002 where she was the best player of the Belarusian team without any alternatives. For being a star player even by European standards. For winning the EGF Cup in 2010. For invitations to the strongest clubs in the world "Hipobank" and "Kometal", which she denied, being faithful to "Randers". At the end of her career Tatjana has stayed in Denmark and opened a small clinic.
#8 Karina Jezhikova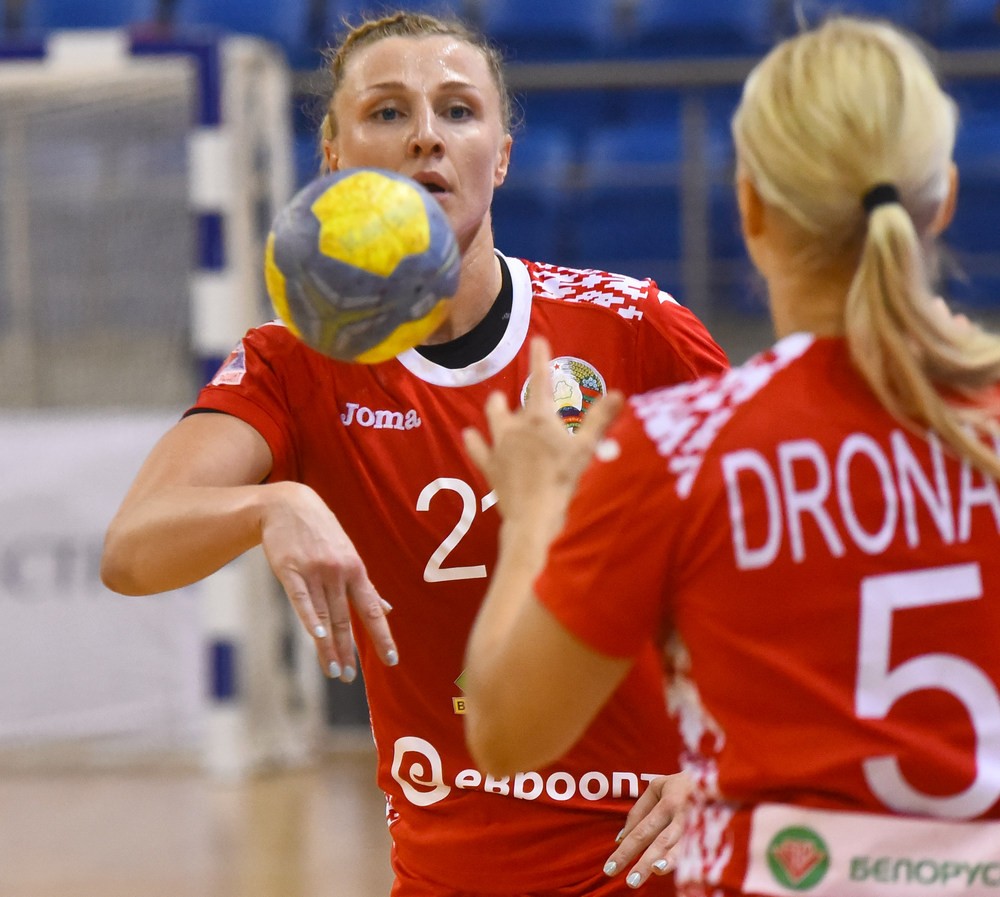 The most valuable quality of this midfielder is, of course, character. With so many dramatic turns in her fate, it simply could not help but form. All my childhood to train with the boys in my native Bobruisk in the hall that was suitable, rather, for mini handball… To move to Russia when I was 15 and even managed to play for their national junior teams… To suspend career because of heart problems… To work as a manager in a recruitment agency and a shop assistant… To return to handball when health problems receded…
Given what she had gone through, becoming a leader of her generation in Belarusian handball was no longer the most difficult task. And Karina would not have been lost in the national team in earlier and more successful periods – for example, when her aunt Bratenkova was playing. Not without reason, she is second only to the legendary Minevska in average efficiency in the national team – 5,05 goals per game. Such statistics, as well as performances at BNTU-BelAZ, Astrakhan, Podravka and Debreceni, Russian championship gold and recent Hungarian bronze, work with top coaches Kirilenko, Trefilov, Tisel, Saracevic are quite appropriate for the eighth place. The only pity is that, unlike her colleagues, Jezikova has yet to try out a top tournament. However, the 31-year-old handballer is not finished yet and has a chance to fulfil her dream, and at the same time to climb our top spot.
#7 Jelena Abramovic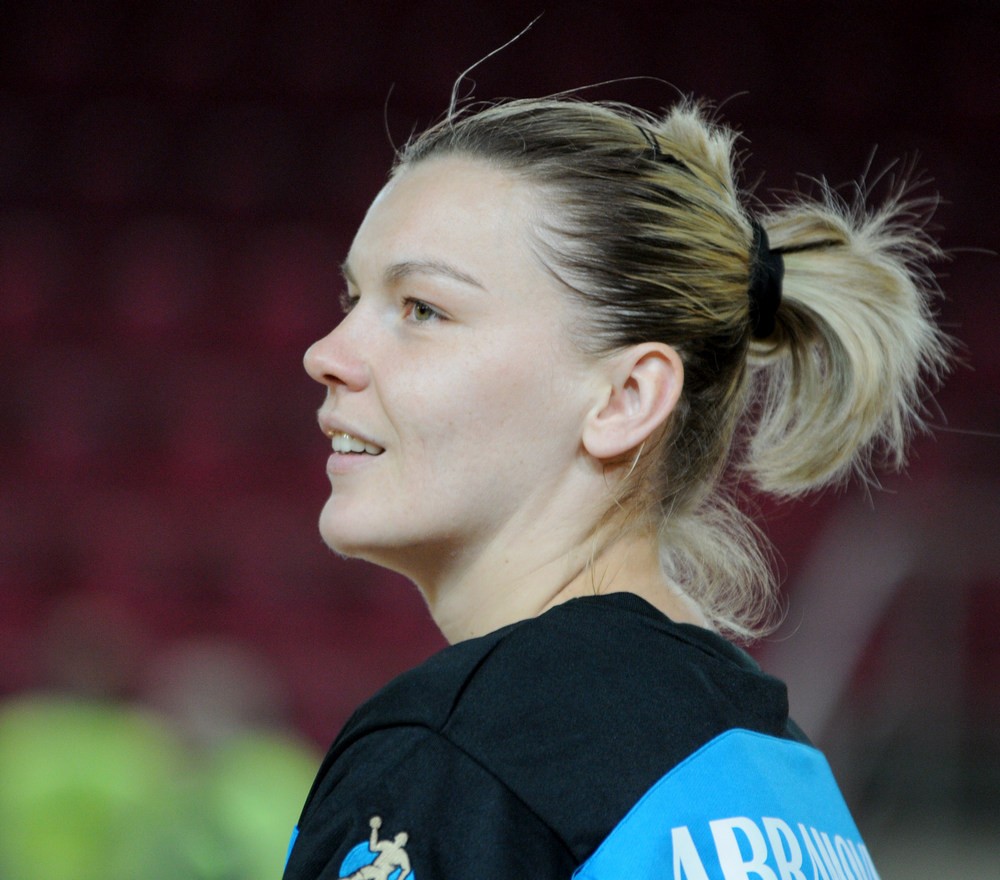 A goalkeeper who is notable for her participation in all three of the national team's top tournaments in the 21st century – the 2002, 2004 and 2008 European Championships. And the latter forum, despite finishing 12th, turned out to be positive for the team and magnificent for Abramović. Jelena helped the team defeat the Austrians, secured a prestigious draw with the Swedes and Germans, saved 29% of saves, and got compliments from almost everyone who looked at the Belarusians' performance. In general, the goalkeeper shares the third place with two other female handball players in terms of the total number of matches for the national team – 93.
At the same time Abramovich had a great club career, playing in BNTU, "Arkatron", Russian "Zvezda", Hungarian team with unpronounceable name "Hodmezewarszarkhey"… But his peak came at the end of performances. Four seasons in the high-profile Ferencvaros are bronze and three silver medals in the Hungarian championship, two European Cup Winners' Cups and participation in the Champions League. Not bad at all for a man who only learned about the game of handball at 14. After graduating 20 years later, Abramovic stayed in Budapest, married current Hungarian head coach Vladimir Golovin and is now raising children.
#6 Natalia Petrakova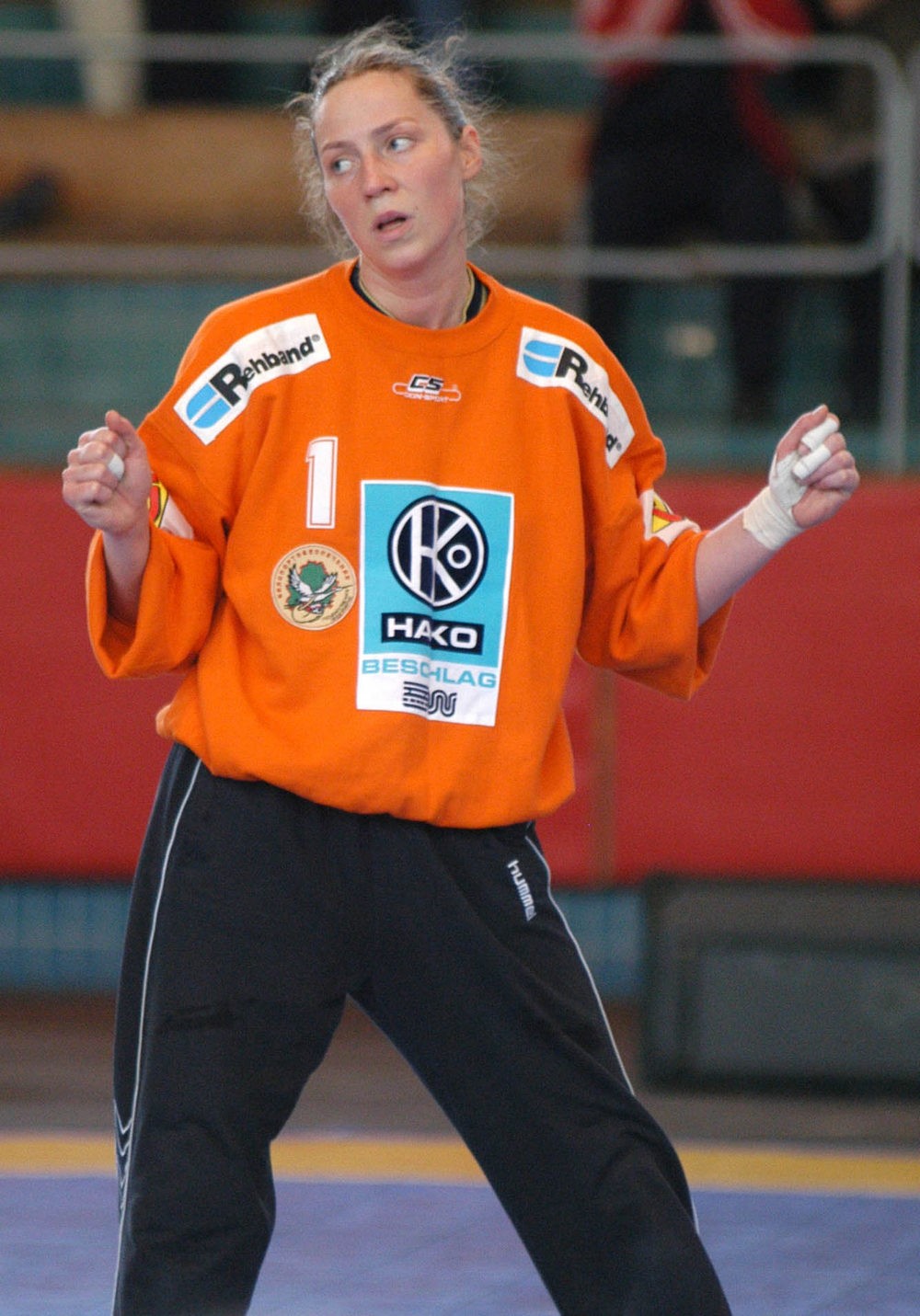 Now everyone knows Natalia as a person with an active civic position and an in-demand specialist – and not only in work with the goalkeepers. A woman head coach for handball is rare, but Petrakova is part of that narrow pool, having led Norway's Olesund (D3). However, not everyone knows or remembers that she was also once a fine goalkeeper.
Prior to Abramovic, she was the number one in the national team – including appearances at the 2002 and 2004 UEFA European Football Championship. Natalia has collected a total of 93 matches in the national team jersey as well as Elena. She has also built a solid club career. The current coaching job was possible largely because she is well remembered and loved in Scandinavia, having played for Norwegian Toten, Lunner, Jevik/Vardal and Danish Aalborg… The northern adventure was diluted by the southern season in the famous Croatian club Podravka which played in the Champions League.
At the same time Natalya's career was frustratingly cut short just before the climax, at the ridiculously old age of 30 for a goalkeeper. In 2006 she was invited to join the Austrian club Hypo. But the dream of playing there was superseded by another dream – to become a mother. After giving birth, Petrakova tried to return, but was prevented by health problems – after a microstroke they were afraid to offer her a contract. Natalia admitted that she only achieved 40 per cent of her potential in sport. But even her figure of 40 is enough to make her one of the best Belarusian handball players in the country's history.
#5 Tatiana Khlimankova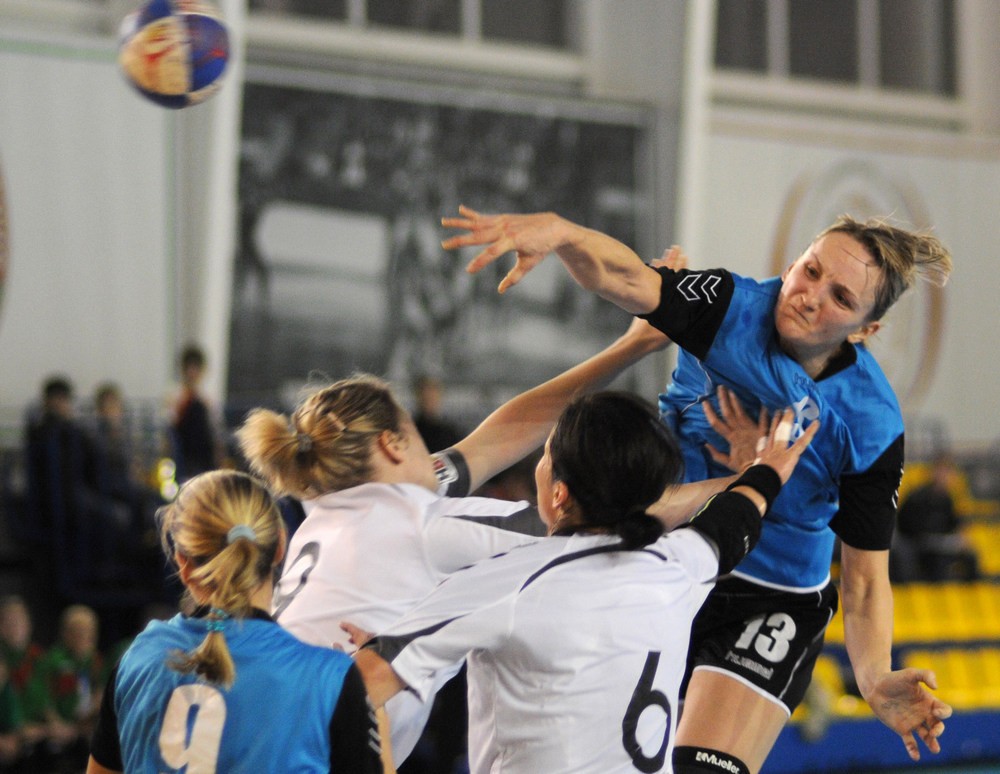 For a long time held a record for the number of goals in the national team (358). A typical attacking midfielder – tall, with a good shot… She has been to almost all top tournaments in the history of the national team – five of six. Legendary coach Leonid Gusko said about her: "Korovina (Khlimankova's maiden name – note) is a person of extremes: either she tears the defence to shreds, or she fails".
The club career of our number five has been uneventful. Apart from Politex and Arcatron from Minsk, her record includes Macedonian Kometal, German Nurnberg, Minden, Mainz, victories in the German Cup and the Challenge Cup, Bundesliga silver… Under certain assumptions one can include even winning the Champions League in the list of achievements. Khlimankova had participated in Kometal's qualification matches in the 2001/02 golden season but soon afterwards she left Skopje: the club did not fulfill her contract, moreover there was a war in the Balkans.
Tatiana admitted in interviews that outside of handball she had always had a desire to work in kindergarten. So Hlimankova is now pursuing it as a physical education teacher in one of Minsk's kindergartens. Tatiana's own children have launched a dynasty: son Alexei played in Minsk "Vityaz", daughter Irina is already involved in the maiden team of Belarus.
#4 Alesia Kurchenkova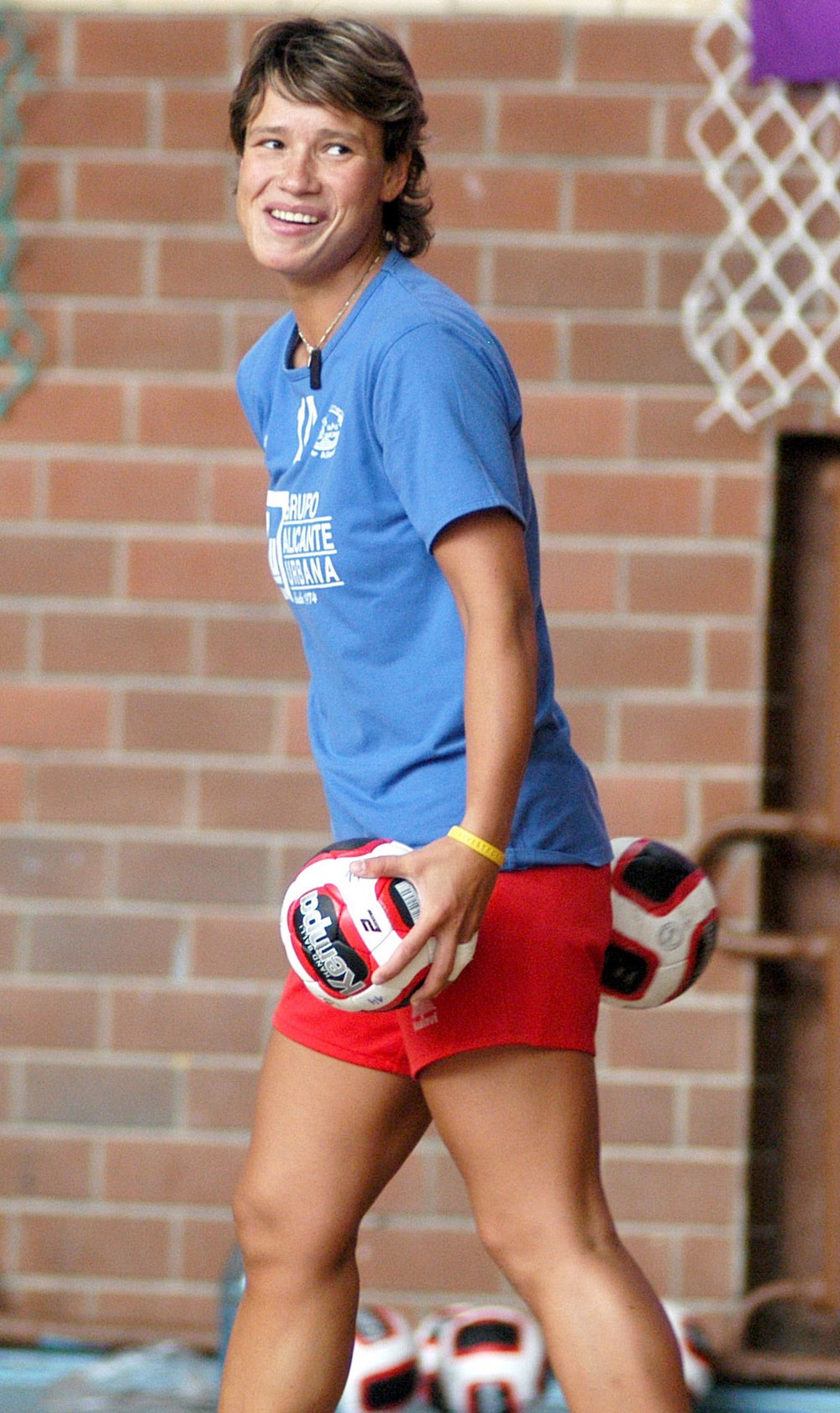 Just behind Khlymankova, in third place in the list of scorers of the national team is Kurchankova (340 goals in 93 games). Having participated in three European Championships, it seems that Alesia has not played everything she could and should have. The last time she was mentioned in the statistics was in 2012. However, after that, the point guard has been in the European competitions more than once and won the Spanish Championship with Atletico Madrid in 2017… Moreover, you will be surprised, but she is still playing to this day, at 42! Not, of course, at a top club and not in the elite – at Alicante in one of the minor divisions – but still at the top of the scoring table.
There is no doubt: she still has her trademark qualities – sharpness, technical ability, creativity… This is how Alesya draws the line under a long Spanish career that began back in 2003, also in Alicante. Then, because of bureaucratic problems, Kurchankova at first could not bring her daughter, who was born in 18 years. However, Alesya and Vera soon reunited, and a dozen years later they even fulfilled the dream of many sports families – training together and taking to the court.
#3 Anastasia Lobach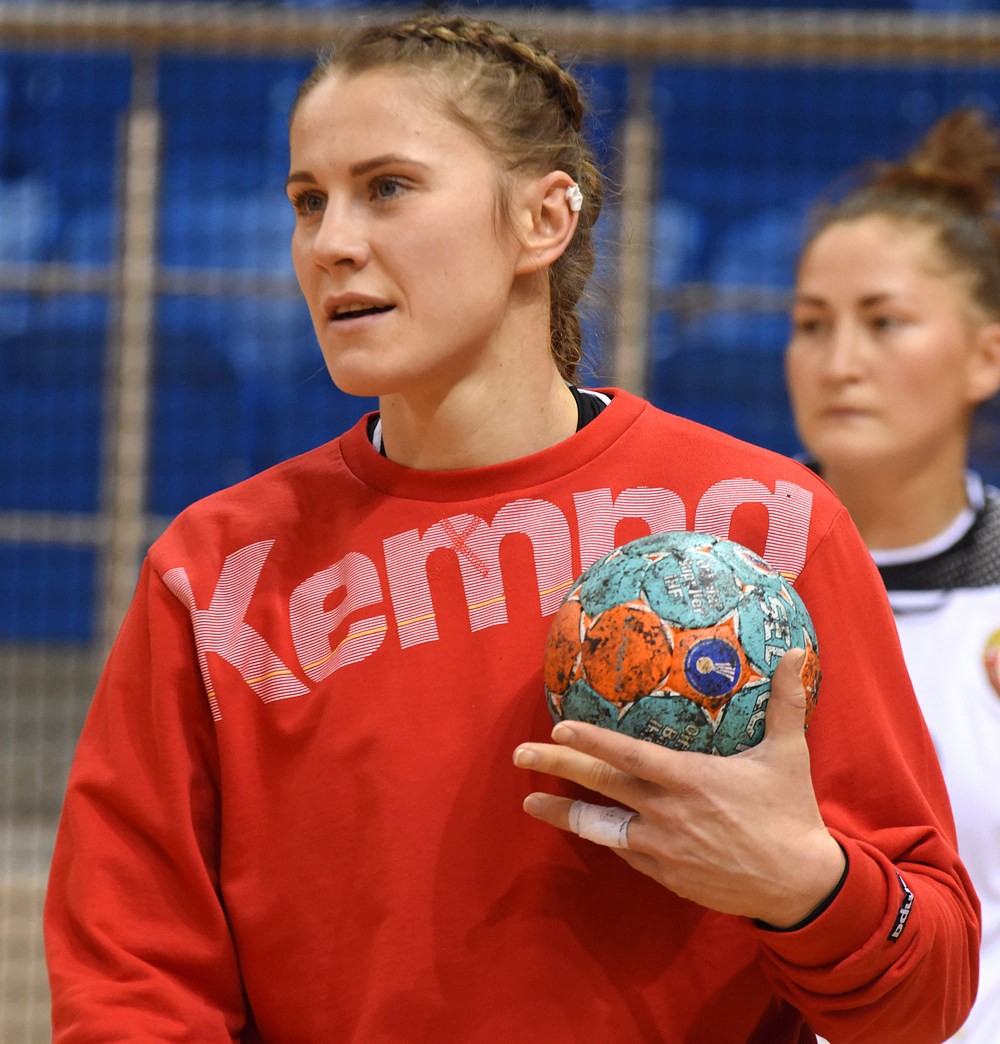 This girl did not even need a club to play for the national team. Several times during her career she came to the national team while not officially employed, but she acted as usual – that is, she was quality and useful. Is this not evidence of character, fighting qualities and professionalism? In particular, under such circumstances, Anastasia helped the national team to a valuable draw against the Germans last October – as it turned out, that was the last dance for the 34-year-old lineswoman.
In the national team's roster, the match against the Bundestim was Lobach's 91st (8th) and her only goal in it was 261st (6th). It is also important that she has caught the edge of an era when the national team was still making its way to the top tournaments. At the same time Anastasia was a European player as well. It is no coincidence that clubs like Ukrainian Galichanka, Romanian Duneria, Baja Mare, Bucharest, Russian Zvezda needed her, and in 2020 Russian Rostov Don needs her after the maternity break. And it is no coincidence that the lineswoman has won the Romanian championship and the Romanian Cup twice each, as well as appearing in the Champions League Final Four.
That said, Anastasia's career would have been even more top-notch had it not been for injuries. In the season 2017/18 alone, the worst thing happened twice – the "crosses" were torn. However, this is all in the past: now the Lobach family is looking forward to the birth of their second child!
#2 Lilia Artyukhovich
The best friend and coeval of Anastasia Artyukhovich is the absolute record holder of the national team in all major categories: matches (121), official matches (73), victories (54), goals (390), goals in official matches (234). She's also one of the few practicing Belarusian handball players who knows what a top tournament is. And it's as if Liliya has no thought of finishing. Not so long ago she showed wonders of returning to the court after giving birth to a child. At the end of November 2020 she became a mother, and at the end of January 2021 she was already playing in the championship with Gomel.
Artyuhovich is also valuable because even at 34 she is not only a prolific midfielder, but also a good central defender. In her time this versatility has allowed her to saturate her portfolio with strong clubs: Ukrainian Galichanka, Russian Luch, Astrakhanochka, Zvezda, Romanian Baia Mare, Slovenian Krim. At the same time an unpleasant pattern has emerged in her international career: half of the teams Artiukhovich left following financial problems.
#1 Raisa Tikhanovich

Still, the unspoken MVP status is more appropriately awarded to a player who both captured the heyday of our women's handball and managed to do a lot in the 21st century. It is Tikhanovich who best fits this description. Raisa entered the new century as an almost 30-year-old handball player, but managed to travel to two top tournaments and knock out 40-45% of her stats in a national team uniform. Incidentally, those stats combined are as follows: 70 matches (16th), 283 goals (5th).
Humble, captain, leader, legend, symbol – well, really, who else but Tikhanovich? She could breastfeed her four-month old daughter at half-time of an important away match of the national team – she could not leave the child at home but had to help the team. She could be 39 and do the best in her club's running tests, surprising Raul Alonso, the then team coach and future coach of BGK. Could have taken the court a couple of years ago, at 48 (!), in one of the minor German leagues.
Two of Raisa's trademarks are her famous head ponytails and deflected shots. The right-handed Tikhanovic played all the way to the right extremity, which is actually terribly uncomfortable and a great rarity in handball, an anomaly. But that was for others, and she made it her thing. Raisa deftly bent and found an opportunity for an accurate throw from a corner, breaking the laws not only of handball, but also physics. "I liked to play a little differently. Not like others," she explained.
Most of her club career has been spent in Germany (Hersfeld, Bayer, Frankfurt, Sulzbach Leidersbach) and has been blossoming with Bundesliga and domestic cup victories. Raisa settled in Sulzbach after her active career, quietly teaching PE and after-school care at a school.